Alexander has found his way back to the joy of creativity
Alexander Suck's joy of creating was awakened during his first woodwork lesson. Back then, in the late 1990s, he would've liked to swap his school desk full time for one of the Sjöbergs benches in the woodwork classroom. There was something about the wood itself, but also the freedom to design freely according to what he felt and thought. He's now 34 and his interest in handicraft has never really faded, but he had to prioritize other things, and it was only a few years ago that Alexander returned to the joy of creating.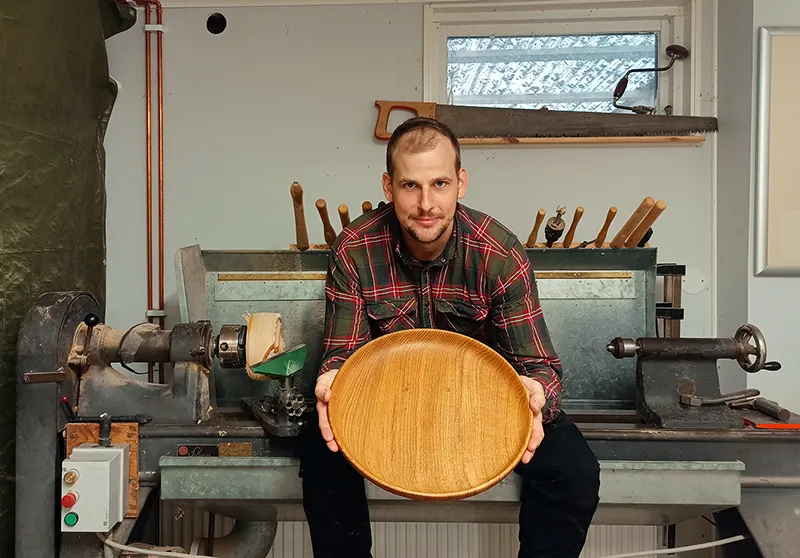 Alexander lives with his partner and two children in a house painted in the traditional red colour located a bit outside Bor, which is just outside Värnamo in the south of Sweden. Moving from a city apartment to the house in the middle of nowhere has given the family the opportunity to get closer to nature and Alexander the opportunity to start creating again. Now there are a couple of woodworking machines in the garage, and what started as a small corner is now looking increasingly like a small carpentry workshop.
"For me, the path to the joy of creating is a process without drawings or fixed dimensions, where there's only one vision and my gut feeling to turn to. I'm happiest when a rustic piece of timber triggers an idea that I can then turn into reality with hand precision and machine power," Alexander explains.
He sees creating as a relaxing hobby in his spare time. His day job is as an environment and work environment coordinator at Schenker, and during his leisure time, creating can be combined with family activities, as well as hunting and cross-country cycling. However, once he's in the garage, it's usually the lathe that gets the most attention.
"I enjoy using the lathe and the feeling of being close to the wood. There's something special about my power being transferred directly to the piece of timber and that everything I do with the lathe has an effect and a consequence. There's tension in it, that the very basic idea sometimes has to be changed because the turning does not come out as I intended," Alexander says.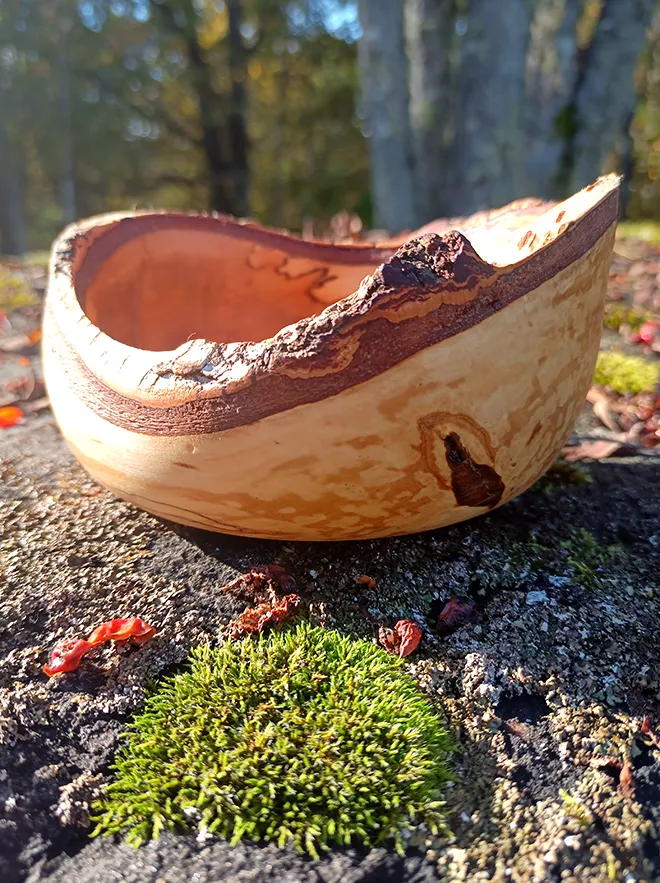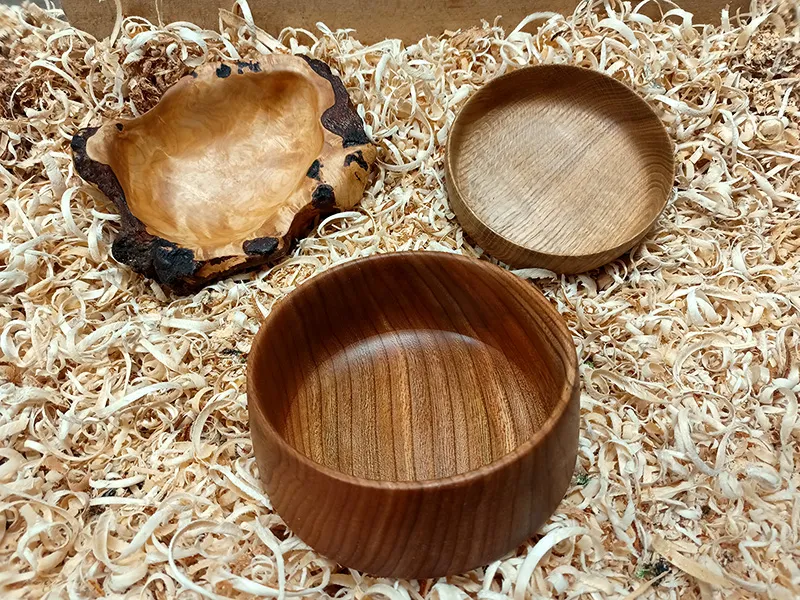 Alexander mostly makes different types of bowls and dishes. He likes soft, dynamic shapes, and strives to make each product unique. Sometimes it turns out more, sometimes it turns out less. To challenge himself and push individual boundaries in creating, he sometimes puts the lathe to the side in order to manufacture larger things. He finds inspiration for his projects online, in nature, in interior design shops and pretty much everywhere really.
"I follow a lot of talented people who post their work on social media, and it can be both inspiring and educational. But in reality, I'm not interested in how others have done something, more in what they have done, because I like to explore the path to the end result myself," he says.
Alexander is happy about the positive response. If he manages to inspire someone through a post on Instagram, he's even happier. But he sees it as a bonus. Alexander has received the most attention for his self-made coffee table; it's also one of the projects he himself is most proud of.
"From a personal level of satisfaction, I'd say that the first place is shared between the coffee table and one of my large fruit platters. I don't know if it has to do with the manufacturing process itself or the final result. What both projects have in common is that I had no idea what they would be like or how I would accomplish it, but when I felt I was done with them, they had turned out exactly as I'd imagined," Alexander says.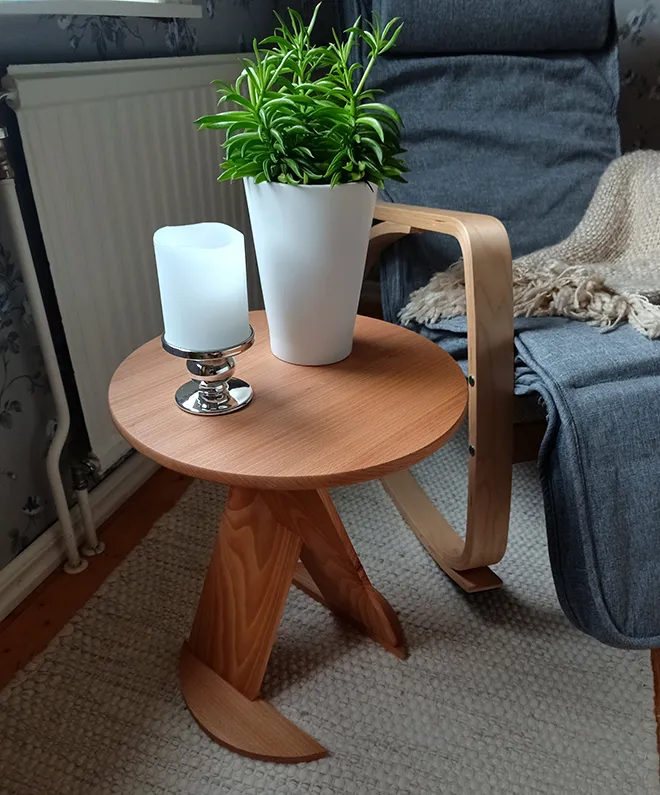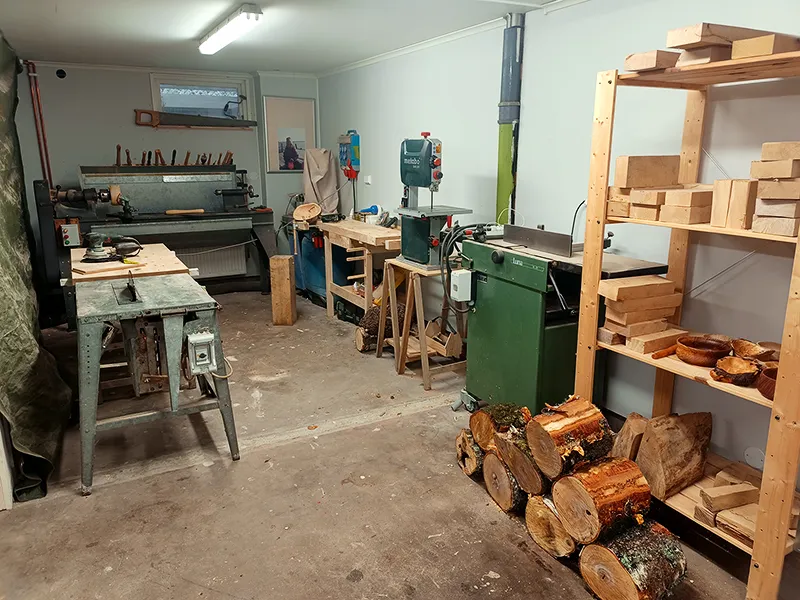 To build up his small workshop, he started small-scale and tested different types of equipment to find what worked for his creations. "Only when you find your thing, or your niche, is it worth investing in better equipment," Alexander states. He also points out that new isn't always best, pointing to his old-model lathe, which he says he'll never replace. On the other hand, he has an investment in sight: a joiner's bench from Sjöbergs.
The small workshop is growing and when the Sjöbergs bench is in place, things will have kind of come t a  full circle. That's where the memory of the joy of creating from the 90's woodwork classroom comes in and at the same time promotes the joy of creating in the future.
"I'm very happy with where I am right now – it feels like there's a good balance between work, family, and my hobby. But who knows, one day I might sell my products too, but we'll cross that bridge when we come to it. The important thing for me is that the workshop is a zone of leisure rather than a job. If things go badly or if I don't like it in that moment, then I want to be able to ignore it, move on, and come back exactly when I want to," Alexander concludes.